IN STORE!

Reggie-12!

IN STORE!

Kitaro!

IN STORE!

Co-Mix

IN STORE!

Anna and Froga: I Dunno...What Do You Want To Do?!

OCTOBER!

Woman Rebel: The Margaret Sanger Story!
Tuesday, February 27, 2007


This issue of The Comics Journal features interviews with Yoshihiro Tatsumi and Miriam Katin. On shelves tomorrow.
Posted by Jamie Q at 2:44 PM

This weekend, the comics-academia hotbed in Gainesville, FL hosts its conference World Building: Seriality and History, The 5th Annual University of Florida Conference on Comics. If you're in the area, you'll want to consider getting some intellectual action.

"This fifth annual conference on comics will focus on the construction of narrative worlds in comics, with particular emphasis on the various temporalities of the medium. We are especially interested in the ways temporality informs the status of comics as a serial medium (both in terms of serial publication as well as the serialization of time within the page) and the ways temporality relates to the representation of history and memory within the narrative. This could be in terms of personal and social history, as in Maus and Persepolis, or in terms of internal narrative histories like superhero retcons and crossovers."




Or, if you're simply a fan of Dylan Horrocks, stop in to check out his events:

Keynote speeches
Sunday, March 4, 1:30 - 5pm

Comics for Everyone:
a workshop & discussion with Dylan Horrocks, Leela Corman & Tom Hart
Tuesday, March 6, 7pm

both at:
Headquarters Public Library
401 E. University Ave.
Gainesville, FL 32601

More info here.
Questions about the conference can be directed to Travis Fristoe.
Posted by Jamie Q at 1:31 PM

Friday, February 23, 2007

Glen David Gold reviews Anders Nilsen's book Don't Go Where I Can't Follow in this Sunday's edition of the Los Angeles Times Book Review: "Don't Go Where I Can't Follow" is both a tribute by a good artist to the life and death of a woman he loved and to the redemptive power of art."
Posted by Peggy Burns at 9:47 PM

"It's easily the first absolute must-read of 2007."
Posted by Peggy Burns at 8:24 PM

Tune in to PRI's The World today to hear an interview with the cartooning team behind Aya: Marguerite Abouet and Clement Oubrerie. The interview is also available online here.



Posted by Jamie Q at 10:29 AM

Thursday, February 22, 2007

We Are On Our Own's Miriam Katin will be on two top-notch panels this weekend at NYCC that make me wish I was going! She will also be signing at the MoCCA table before each panel.

SIGNINGS:
MoCCA Booth, Hall 3E Booth #774
Friday, February 23, 2007 3:30 - 5:30 PM
Sunday, February 25, 12:30 - 2:30 PM

PANELS:
Friday, February 23, 2007, 6:30 PM
"Mothers & Daughters: Female Graphic Novelists and the Family" is scheduled to take place in Room 1E15. With Aline Kominsky-Crumb, Megan Kelso and Alison Bechdel.

Sunday, February 25, 3:00 PM
"Living to Tell the Tale: Graphic Novel as Memoir" is scheduled to take place in Room 1E15.

Special thanks to MoCCA for hosting!
Posted by Peggy Burns at 10:23 AM

Tuesday, February 20, 2007


Our dear friends at Fantagraphics, who hosted the last stop of our Gabrielle, Kevin and Anders tour, have photos up of the event here.
Posted by Peggy Burns at 2:02 PM


This article came across my screen well after it appeared in print, but I'll take it! It would seem that European edition of Time Magazine dated 12/25/06, the Person of the Year issue (you!) selected our Moomin: The Complete Tove Jansson Comic Strip as one of its 10 best of ANY book in 2006 stating: Here is where Jansson's weird but true world begins; where fear, loneliness and insecurity are banished by love and the force of imagination. Gotta love it.
Posted by Peggy Burns at 1:02 PM


Posted by Peggy Burns at 12:55 PM


Our latest award-winning release AYA is now on sale across North America. Blake Bell blogged a great entry on the book on his blog "Best of Most Of" and the book is featured in this month's issue of Vibe Vixen with cover art, and interviews are slated with NPR and PW and more press is to follow, including a review in Body + Soul. Now with press hits in Vibe Vixen and Body + Soul, one should be tipped off that this is no ordinary graphic novel, especially if you consider that it already won an award at Angouleme in 2006, the author Marguerite Abouet is slated to appear at the Pen World Voices Literary Festival in NYC in April,it has received two starred reviews from Booklist and Library Journal and it is also being published in the UK by Jonathan Cape. The book is in stores and you have been told!
Posted by Peggy Burns at 11:27 AM

Friday, February 16, 2007

by reading Moomin: The Complete Tove Jansson Comic Strip.
Posted by Peggy Burns at 3:17 PM


Is there a better way to spend a Saturday night in Seattle? I think not. Gabrielle Bell, Kevin Huizenga and Anders Nilsen will be at the Fantagraphics store at 6 PM ready to entertain you with their slide show and to sign books. More information here. And kind words from the Seattle Weekly.
Posted by Peggy Burns at 2:15 PM


He went 13 days without doing you-know-what and you can read about it on his blog. He claims, "it wasn't the slightest bit difficult. I always knew I had control of this .. I just never care to exercise it."
Posted by Jamie Q at 10:36 AM

Thursday, February 15, 2007

This week, Publishers Weekly gives a starred review to Rutu Modan's Exit Wounds, due out in June stating: "Modan is a deft and subtle storyteller, and her meditation on Israeli identity and the possibilities of love and trust (between father and son, woman and man) are finely wrought. Her loose, expressive drawing is both tremendously evocative and precise-always enhancing the plot. The stellar combination makes this one of the major graphic novels of 2007." For the full review click here and for a preview click here.
Posted by Peggy Burns at 10:54 AM

Gabrielle Bell (Lucky), Kevin Huizenga (Curses), and Anders Nilsen (Don't Go Where I Can't Follow) roll into Portland's Reading Frenzy tonight as part of their West Coast tour. Every stop so far has been a great success, so don't miss this chance to see their slide presentations and meet them afterwards during their book signings!

The Willamette Week writes up the event here with some nice things to say about these three rising stars.



Posted by Jamie Q at 10:20 AM

Wednesday, February 14, 2007

Mr. Tim Hensley of Los Angeles, California turned me on to this blog a couple of months back and I thought I would share it with you. There are a bunch of great old strips with some decent info about the cartoonists and strip history. There are also some great occasional features like this Jim Ivey photo set featuring folks like Frank King, Roy Crane, Fred Laswell, C. C. Beck and many others. This A. L. Jansson spot is another pretty cool post as well.
Stripper's Guide is run by Allan Holtz and he's doing us all a great service.
Posted by Tom Devlin at 10:58 AM

Monday, February 12, 2007

The Booksmith on Haight Street & Cole in San Francisco welcomes the three on Tuesday night at 7 PM, so don't miss out!

The SF Weekly makes Tuesday a top pick and a fan report from LA.
Posted by Peggy Burns at 6:30 PM


Chris Ware returns to Nebraska, where he was born in Omaha, this Friday for a solo exhibit aptly titled Chris Ware at the Sheldon Memorial Art Gallery at the University of Nebraska-Lincoln. He will have a discussion with the curator this Friday, which will be broadcasted live on the web. Read an article in the Kansas City Star.

Chris' show coincides with the gallery's Comic Art show.
Posted by Peggy Burns at 8:46 AM

Friday, February 09, 2007

Gabrielle Bell, Kevin Huizenga and Anders Nilsen are on the road and will be in Berkeley at the Bay Area institution Comic Relief this Sunday afternoon! They'll all be doing slide presentations and signing their new books Lucky, Curses and Don't Go Where I Can't Follow. So check it out, or click here for details on their SF, Portland and Seattle stops for the fabulous trio in the upcoming week!!

In addition the Eastbay Express has it as one of their top picks, as did the LA City Beat for last night's event.
Posted by Peggy Burns at 3:11 PM

Thursday, February 08, 2007

...reason enough for D+Q to jump on the ol' bandwagon and get a Myspace page. So friends, please add us! We are at http://www.myspace.com/drawnandquarterly
Posted by Jamie Q at 5:30 PM

Also tonight, D+Q enthusiasts in London, Ontario should head over to the Community Outreach Gallery to see some original Peter Thompson drawings. Opening reception 6 - 10PM. 101 Stanley Street. Show stays up 'til March 9th.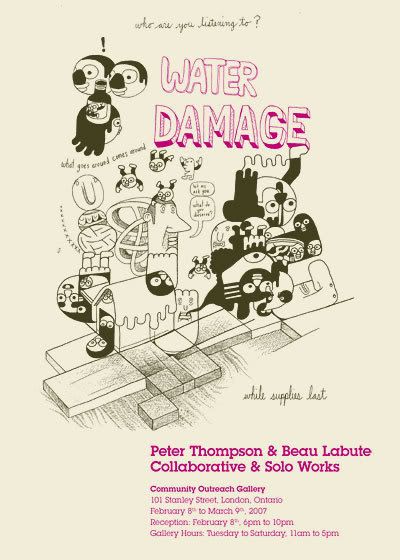 Posted by Jamie Q at 10:52 AM

Wednesday, February 07, 2007

Wow, an exciting day at D+Q... little did we know that our current intern Andrew, only in Montreal for 4 weeks, has secretly joined a band and is doing some serious business in this town. It all came to light today, when we found this message on our voice mail:

"Hi there I'm calling for Andrew.. uh how's it going man? This is uh, Leathersnake Maxi-pad uh Marc Beauchamp, uh you might remember me from um from Eric Gautier and stuff like that, and uh, and beardo, John Cummings and stuff. But, uh, hey man, uh, I'm actually, I got your number off uh, John, heh. Uh... I'm throwing - we're - my friends and I we're doing a trade show, with an exclusive party and stuff, where it's gonna be, uh, invite only, and uh, people from all over North America are coming and stuff like that. And uh, it's gonna be like open bar and wh- there's a fashion show, and uh duuude I saw the Mongrels and I.. I would love to book you guys - ROCK and ROLL. Ahh, there's gonna be a silkscreen, uh, with naked chicks behind it and stuff so it's gonna be pretty... pretty awesome party. Uh, anyways, lemme know what uh, if you give me a call back, and uh we can, we can discuss booking if you guys are available and stuff it'd be February 11th, and uh yeah, that'd be super rad man. Uh, my phone number is 514-839-67XX. If you can get back to me, that would be super dope, uh, or you can get uh, Jay Tensa to give me a shout or or, or Jimmy or whatever, so um, that'd be super cool man. Uh lemme know. And I'll talk to you soon. Thanks. Ciao."

Hey Andrew, make sure your friend Leathersnake Maxi-pad puts us all on the guest list!



Posted by Jamie Q at 12:11 PM

Tuesday, February 06, 2007

The Minneapolis City Pages interviews Sammy Harkham about his Kramers exhibit at Macalester College.
Posted by Peggy Burns at 6:20 PM

Gabrielle Bell, Kevin Huizenga and Anders Nilsen hit the West Coast this week, just in time to miss these sub zero temperatures in the Midwest and East Coast. The tour kicks off this Thursday the 8th at Skylight Books in Los Angeles. Dates, times, and locations here.

All three will be presenting slide shows on their work and taking questions and signing their new books. Need some ideas on what to ask? Check out this Q+A with Kevin in this week's PW Comics Week.




Also, don't miss Anders opening at Secret Headquarters this Friday February 9th!
Posted by Peggy Burns at 4:30 PM

"Something must be said about the effortlessness of these comic strips. There isn't a word or image out of place. I cannot think of another comic strip that gives me as much pleasure as this one. There is also something uniquely calming and stress-relieving about reading Moomin that I can't quite put into words..."-Jeff Vandermeer, Bookslut
Posted by Peggy Burns at 2:32 PM

May 2006
June 2006
July 2006
August 2006
September 2006
October 2006
November 2006
December 2006
January 2007
February 2007
March 2007
April 2007
May 2007
June 2007
July 2007
August 2007
September 2007
October 2007
November 2007
December 2007
January 2008
February 2008
March 2008
April 2008
May 2008
June 2008
July 2008
August 2008
September 2008
October 2008